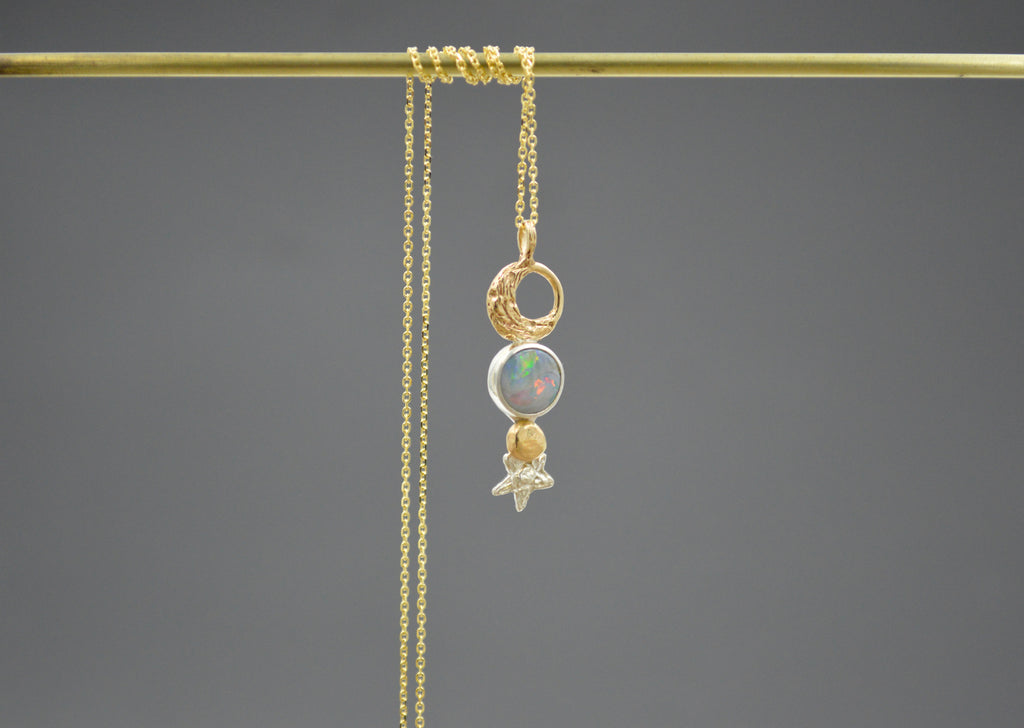 14k and Silver Celestial Opal Necklace
$ 708.00
A one of a kind, mixed metal pendant with a beautiful Australian Opal. This necklace was hand constructed with 14k and sterling silver castings, melted 14k gold scrap, sterling silver sheet and fine silver bezel wire. The opal setting has a small hand cut moon in the back of the setting. Hangs on a thin 14k gold chain that is adjustable from 16", 17" and 18".
Materials: 14k yellow gold, sterling and fine silver, approx 7mm round natural Australian Opal, thin 14k gold chain
Dimensions: Pendant measures 29.5mm long and 8mm at its widest. Chain is adjustable from 16", 17", and 18".
Opal is a soft gemstone and should be taken extra care of knowing so. Australian opals can get wet ( with plain water) but I always recommend taking off jewelry before swimming, showering, cleaning, exercising etc.!
This necklace is posted on my Etsy shop as well. If by some chance 2 people purchase it at the same time, it will go to whosever order went through first and the other will be refunded. Thank you!