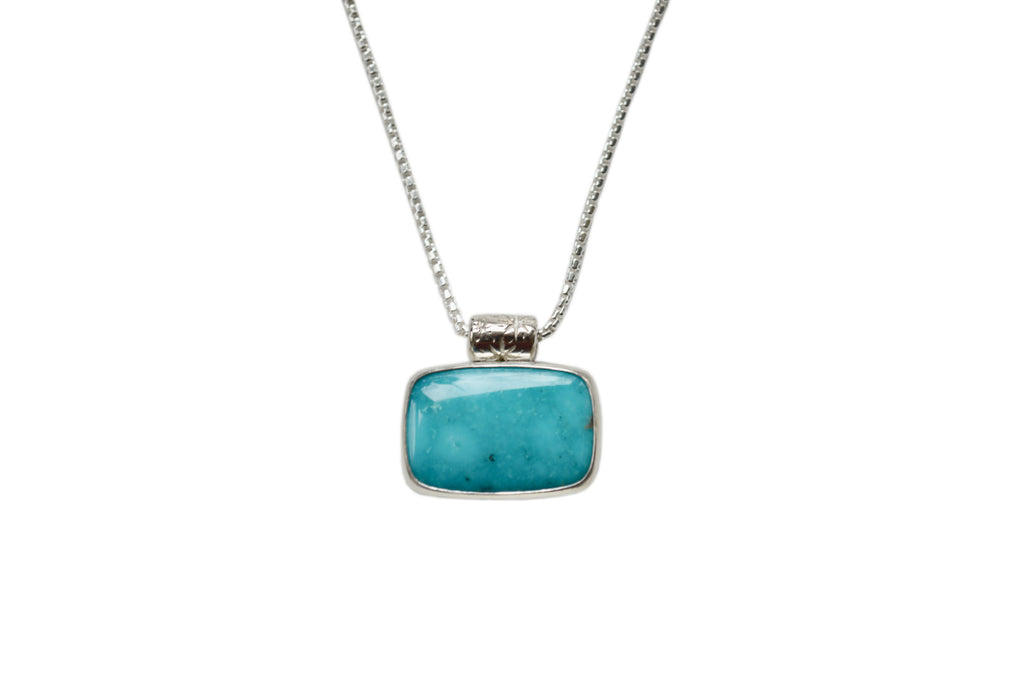 Silver Starry Campitos Turquoise Necklace
$ 279.00
A beautiful rectangular shaped Campitos Turquoise with a cast sterling silver star encrusted bail. The setting was hand fabricated out of sterling silver sheet and fine silver bezel wire.
The pendant hangs from an 18" sterling silver chain.
Pendant measures 18mm tall by 19mm wide. (Just under 3/4 inch tall and 3/4 wide.)
Only one necklace with this exact unique stone available. 
Turquoise jewelry needs extra care as turquoise is a very soft, porous gemstone. Take off your turquoise jewelry before showering, bathing, swimming, exercising or cleaning with harsh chemicals. Anything where your jewelry will be exposed to chemicals, water or could be bumped aggressively isn't safe for the stone. You can clean turquoise jewelry with a soft, clean polishing cloth. Being extra gentle on the gemstone. To clean the stone itself you can wash with warm water and a very soft cloth or brush. Dry thoroughly. Never use in an ultrasonic, steam cleaner or jewelry cleaning chemicals.
This necklace is posted on my Etsy shop as well. If by some chance 2 people purchase it at the same time, it will go to whosever order went through first and the other will be refunded. Thank you!