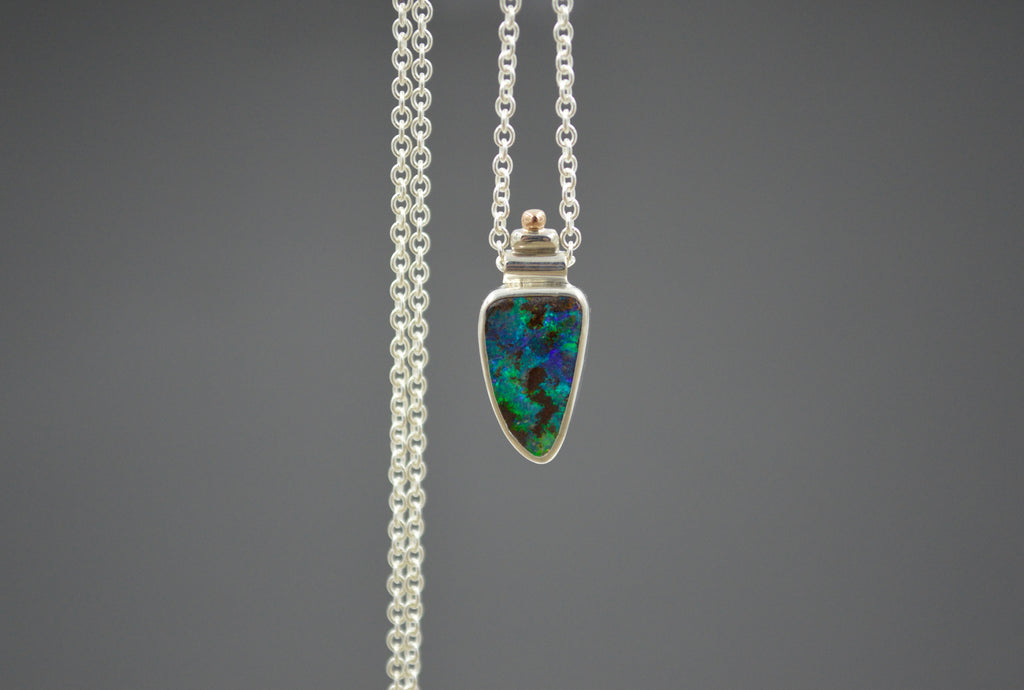 Silver and Rose Gold Bright Green and Blue Boulder Opal Necklace
$ 312.00
A one of a kind necklace featuring a beautifully saturated Australian boulder opal. It has flecks of bright green and blue throughout. There is a small 14k rose gold detail at the top of the pendant. Pendant was hand constructed from melted sterling and rose gold scraps, sterling silver tube, sheet and fine silver bezel wire. Pendant hangs from an 18" sterling silver chain.
Materials: Approx 13mm by 8mm wide Australian boulder opal, sterling silver, fine silver, 14k rose gold.
Dimensions: Pendant measures 19mm long by 8.5mm wide. 1.5mm wide chain is 18" long.
Opal is a soft gemstone and should be taken extra care of knowing so. Australian opals can get wet ( with plain water) but I always recommend taking off jewelry before swimming, showering, cleaning, exercising etc.!
This necklace is posted on my Etsy shop as well. If by some chance 2 people purchase it at the same time, it will go to whosever order went through first and the other will be refunded. Thank you!