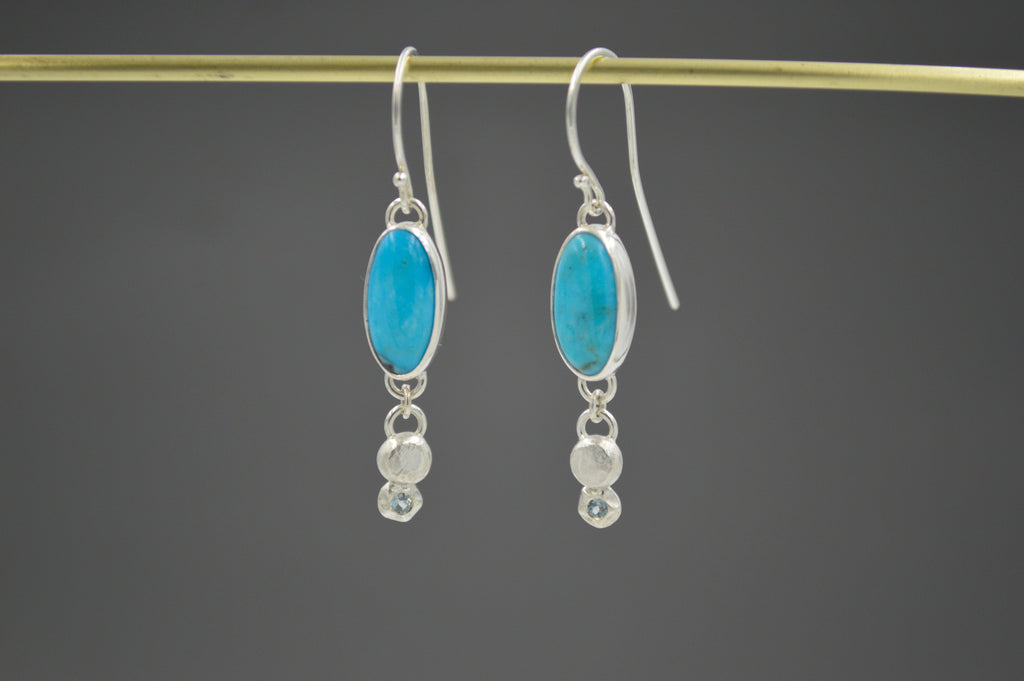 Turquoise and Montana Sapphire Dangle Earrings
$ 420.00
A one of a kind pair of dangle earrings with oval Turquoise cabochons and teal colored Montana sapphires. These earrings were handcrafted from sterling silver sheet, wire, melted scraps, and silver castings. The moon and star detail at the back of the earrings were hand sewn.
Materials: Sterling silver, fine silver, 15mm by 8mm turquoise cabochons, 2mm teal Montana sapphires.
Dimensions: from top of ear wires 45mm long (1.75 inches)
Turquoise jewelry needs extra care as turquoise is a very soft, porous gemstone. Take off your turquoise jewelry before showering, bathing, swimming, exercising or cleaning with harsh chemicals. Anything where your jewelry will be exposed to chemicals, water or could be bumped aggressively isn't safe for the stone. You can clean turquoise jewelry with a soft, clean polishing cloth. Being extra gentle on the gemstone. To clean the stone itself you can wash with warm water and a very soft cloth or brush. Dry thoroughly. Never use in an ultrasonic, steam cleaner or jewelry cleaning chemicals.

These earrings are posted on my web shop as well. If by some chance 2 people purchase it at the same time, it will go to whosever order went through first and the other will be refunded. Thank you!